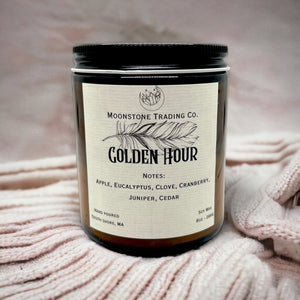 Golden Hour *New 2023*
Bring the beauty of a glowing fall sunset into your home with our Golden Hour candle! This enchanting scent is a blend of apple, eucalyptus, clove, cranberry, juniper, and cedar, evoking all the warmth and coziness of autumn.
Packaged in an amber jar with a vintage-inspired linen like texture label, 
this candle captures the essence of the season. Light it up and let the warm glow and lovely aroma fill your home, as you imagine yourself admiring the stunning colors of the setting sun on a crisp autumn evening.
Notes:
Top: Apple, Eucalyptus
Middle: Clove, Cranberry, Juniper 
Base: Warm Cedar 
Details
-8oz/226G
-100% Soy
-Cotton Wick
-Phthalate and paraben free fragrance