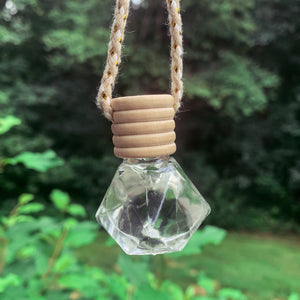 Car Diffusers
Please choose a scent from the drop down!  Car diffusers are made with the same clean fragrances used for our candles and the strength of the fragrance can be adjusted for personal preference. 
To use: Remove the wood cap, remove the stopper and replace wooden cap, tip upside down to saturate the reed wood. Once the wood is saturated to the strength desired replace the stopper to avoid spills and put the wood cap back on and enjoy. Refresh as needed.
Lasting power varies depending how strong and often you want to refresh the scent.
Warning!
The liquid inside could damage porous surfaces like leather so please replace the stopper after refresh to avoid accidental spills. 
No other candles light my home!
If you are looking for the perfect, beautifully scented, clean burning candle… look no further. These are the best! I love the abundance, creativity, winter solstice! I also love the crystals that come with the candles as an added bonus to make a meditation ritual part of my routine!
Love!
Not to be dramatic but the car diffusers changed my life. Love them so, so, SO much, looking forward to picking up a fall scent!