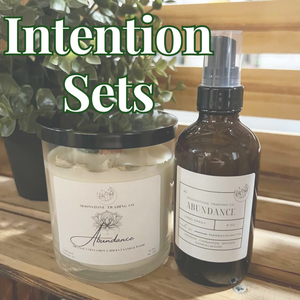 Intention Sets
Pair your favorite crystal candle with the matching linen spray! These make a perfect gift or keep for yourself, I won't tell! Linen spays can be misted around the room and on any fabric surface. We always suggest doing a spot test in a less visible spot before spraying all over. They are perfect for yoga and meditation mats if you plan to incorporate your intention setting into your practice. 
-Candles are 8.5oz of soy wax with a wooden wick, crystals and botanicals vary by intention
-Linen sprays are 4oz
***PLEASE NOTE***
Crystals, herbs and botanicals may vary in size, shape and color depending on availability. 
Crystals are intended to remove before first burn to optimize the burn and life of your candle. Apply light pressure and they should pop out to be used for ritual meditation. Candle top will smooth back out when heated. You can also use a spoon to remove after the first burn although not recommended, please be careful they will be hot. NEVER when lit. Directions included with candle.