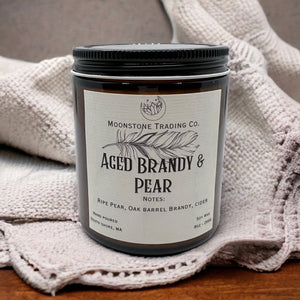 Aged Brandy & Pear
 Experience the crisp fall notes of our Aged Brandy & Pear candle! Ripe pear, oak barrel brandy, and cider notes combine to create a sophisticated scent that's fresh and perfect for fall.
Packaged in an amber jar with a vintage-inspired linen like texture label,
this candle is a must-have for any home décor enthusiast. The warm glow and rich aroma will help you relax and unwind after a long day.
Notes:
Top: Cinnamon, Clove
Middle: Crisp pear, Apple Cider
Base: Brown sugar, Brandy
Details
-8oz/226G
-100% Soy
-Cotton Wick
-Phthalate and paraben free fragrance