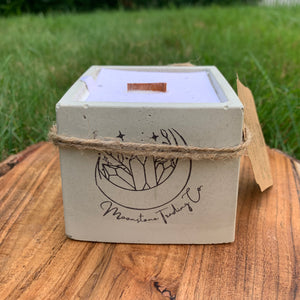 Square Vessel
Comes in 3 scents please chose your scent from the drop down!
Square candles are 4.5oz of wax 
Scent Descriptions:
Mystic- Cardamom, Violet, Smoke Wood, Saffron, and Amber 
A Mystic is someone who seeks insight into mysteries beyond typical human knowledge they are a thinker and a spiritual truth seeker. This scent is complex and deep like a mystic. Somewhat masculine smelling like an expensive cologne with a woodsy undertone. 
Bohemian Coast- Coconut, Sandalwood, Cedar, and Tonka Bean
Bohemian coast, like its name is an unconventional coastal scent. It opens with notes of soft coconut which is followed out by the soft cedar and sandalwood notes and mellowed out in the end with the sweet tonka bean. This scent reminds me of a drive down a Northern California coast ocean on one side and forest on the other. This is a great scent even if you're not a huge fan of coconut the note is very mild and unique mixed with earthy undertones. 
Zen- Salt water, Ozone, Seagrass 
Zen is a watery and soothing scent. It's very airy and fresh and relaxing and was inspired by the memory of early morning yoga on the beach. You can smell the salty air and the calm ocean with notes of seagrass and a slight powdery undertone like a fresh beach towel right out of the laundry. 
-100% Soy
-Cracking wooden Wick
-Phthalate and paraben free fragrance
-Wild flower seed paper dust cover (instructions included on tag)
***Each vessel is 100% handmade so slight variations and imperfections will be present on each jar***